Take Texas Drivers Ed Online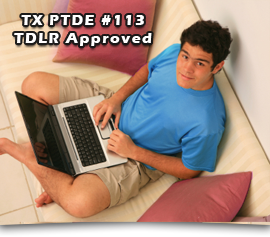 Fulfills DPS & TDLR Requirements
Free Completion Certificate Reporting
100% Online, Works with Any Internet Enabled Device!
Money Back Guarantee, No Hidden Fees
Get Student Support 24/7
Powered by the American Safety Council
Choose the online drivers ed course that is right for you:
Our Texas drivers ed courses are 100% online, letting you work around your own schedule, from the comfort of your own home. Further, our online programs automatically save your course progress, allowing you to go at your own pace, logging in and out as much as you want. Our Texas courses come with 24/7 customer support and after you successfully complete one of our courses, your certificate of completion will be sent to you fast, so you can get behind the wheel quickly!
Why Online Drivers Ed is the Right Choice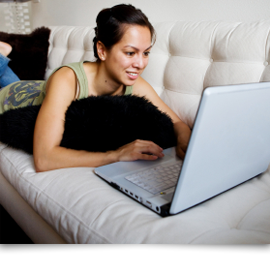 Get a Higher Quality Driver's Education without Distraction
Taking driver's education online provides the optimum learning environment for teens. While taking driver's ed in a classroom may have certain advantages, it is hard to argue the effectiveness of learning one-on-one using a self-paced course.
Enhanced Concentration. Learning online allows the student to setup a learning-friendly environment, rather than sitting in an often-crowded classroom with a handful of noisy teens.
Perfect Pace. Teens can start and stop the online course as their attention drifts. They can do a few lessons at a time instead of sitting through hours of classroom instruction all at once. In a traditional classroom setting, teens will tune out and quit learning when they become sleepy, distracted, or just plain bored.
Learn and Relearn. Taking drivers ed online provides the student an opportunity to review the material that needs reviewing. If there is a driving concept that a teen is struggling with, they can go back and reread the lesson. In a classroom, teens often feel embarrassed to ask for clarification, or there simply isn't enough time to stop and answer student questions.
The Price is Right. An obvious advantage of online education is that it is an affordable education. With the wide-availability of Internet access today, anyone can take drivers ed online, whether it be from home, school, or even a coffee shop. Today's teens don't have to stress about affording more expensive classroom programs, and parents don't have to stress about driving their teens to and from out-of-the-way driver's ed classrooms.